Stone Outdoor Fireplaces
The Benefits of using stone outdoor fireplaces
So you are looking to add a fireplace to your outdoor area? Have you thought about the material you would like to use for the fireplace? Should you choose brick or stone? What are the benefits of using stone? This article will explain to you why stone outdoor fireplaces are your best bet. I will also cover the benefits of using stone instead of brick. This article will also cover the safety tips when using any type of fireplace. This way you'll be able to keep you, your possessions, and your family safe while installing and using your stone outdoor fireplace.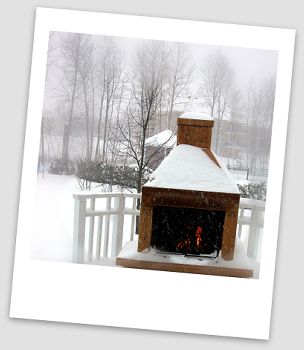 Before determine the type of fireplace you want to purchase you should determine the type of fuel you want to use. Do you want to use wood or gas? If you choose a gas fireplace you won't have to worry about the difficulties of starting a fire because all that you need to do with a gas fireplace is push a button and fire will start.
Gas is less messy than wood as well and some people even consider gas fireplaces to be safer. Of course, some people just prefer using the old traditional method offered by a traditional wood burning fireplace. You should take some time to determine which is better suited for you because it really is an important aspect in the long run.
So hopefully by now you've decided which type of fuel you would rather use for your stone outdoor wood fireplace. So why should you use stone instead of brick? Well, brick and stone are almost identical when it comes to performance. The real reason many people select stone is because of the many different looks and styles available in stone fireplaces. While brick outdoor fireplaces come in many different sizes and shapes they don't come in many different colors. Homeowners can find a specific stone fireplace to fit a specific design that matches their particular outdoor style. Of course, stone fireplaces are made from many different types of stones.
When purchasing a stone outdoor fireplace you will quickly realize that you have three main types of stones to choose from including cast, carved, and mortared. Mortar fireplaces are formed using rough stones that are set in mortar. Mortar is much like bricks because they are look a lot like irregularly shaped bricks. By using local stone that offers a look based on the area specific can enhance their rustic appearance. If you are looking for something more expensive then you are looking for carved stones. Most of the time fireplaces made from carved stones are made of limestone or marble. They can be made from other carved stones but limestone and marble are the most common.

"It will be a good idea to take all the safety precautions you can to keep you and your family save while using your fireplace."
Carved stone outdoor fireplaces tend to be the most expensive because the stones are very difficult to produce. However, they provide a much more elegant and classical appearance which makes up for their expensive price tag. If you are looking for something a little cheaper then cast stone fireplaces are your best bet. These types of fireplaces are normally formed in a mold. They are usually created using a manmade limestone mixture which is why they are generally less expensive than fireplaces made from different types of stone. Each type of stone has a different weight as well. If you are looking for something light weight then you should go with natural stone.
It is a good idea to take safety precautions to keep you and your family save while using your fireplace. If you prefer a stone outdoor fireplace that uses wood then it is a great idea to use a screen. A screen will help block sparks and embers from jumping out of the fireplace and starting an external fire. If you are going to cook using your stone outdoor fireplace then be sure to keep skewers at least six inches away from the flame when roasting marshmallows and hotdog wieners. No matter what fireplace you are using remember to never leave a fire unattended as this could put you and your family in danger as well as your home and all of your possessions.