Outdoor Fireplaces
Warmth and fun - Outdoor Fire Place
Just imagine having your own outdoor fireplace at your disposal whenever you decide to have an old fashioned barbecue. Constructing your own fireplace is inexpensive. It will add to the beauty of your landscape. A fireplace can also add to the warm and enjoyment of your back yard. It is one of the most popular homeowner trends of all times bringing the indoor to the outdoors by adding a magnificent traditional fireplace to your patio, pool, or garden. There are many uses of a fireplace which we will describe in this article along with everything you will need to know when buying or building your own outdoor fireplace.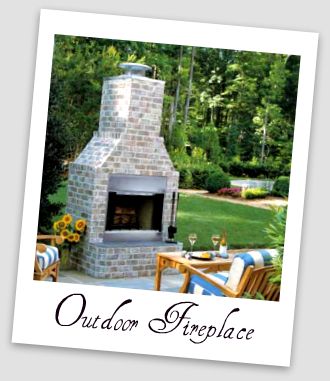 An outdoor fireplace has many uses besides giving your garden or patio a sense of beauty and ambience of an old fashioned campfire. It can be used as a barbecue grill to cook lots of different types of foods. Just imagine if your electricity goes out and you don't have a way to cook your family a meal; all you will need to do is go out and fire up your outdoor fireplace. You can also use your fireplace on cool evenings to be able to enjoy the outdoors a little more bearable because your fireplace will radiate heat keeping everyone warm while gathered around the fireplace.
There are many types of fireplaces to choose from. You have the choice of using different types of fuel to heat your fireplace. Wood appears to be the preferred heating source with most people because it allows your fireplace to keep the old traditional heating source. It is important when using wood that you remember the difficulties of cutting and chopping the wood with an extra time allowance to let the wood dry out prior to usage. Another form of fuel is natural gas, if you prefer natural gas you will need to call your local gas company and put an order in for a hookup to your fireplace. Don't forget propane, which is another source of fuel. When using propane you will have to buy a tank that holds the propane and the perfect fittings that will allow for hookup to your outdoor fireplace.
When cleaning your outdoor fireplace which is different with each fuel type that you decide you use. When using wood as your fuel preference it a little more difficult to keep clean because you have to dispose of the ashes. You also must find a proper way to dispose of the ashes because if you use your fireplace several times a week the ashes will pile up quickly. If you use natural gas or propane you never have to worry about ashes. Another problem that your fireplace will encounter is bird droppings. You must clean the bird droppings as soon as you spot them because they can stain the rock or brick.

"Maintenance is a very important process that you should do quiet often in order to ensure the longevity of your outdoor fireplace."
Maintenance is a very important process that you should do quiet often in order to ensure the longevity of your outdoor fireplace. If you use your fireplace once or twice a week you may want to perform maintenance checks biweekly. Always check the grills for leftover food, grease, or anything that has a tendency to buildup. This will have to be removed with a degreaser or another cleaning product that is safe to use with an outdoor fireplace grill. It is important to fix any problem that has been created by weatherization, loose mortar or bricks, cracked fire bricks, or any other areas that could create a problem later. If you have a chimney be sure to perform weekly chimney sweeps to prevent fires.
It requires a bit of work to use your outdoor fireplace but the time spent will be well worth it. When you see the enjoyment that is displayed on your family's face while gathered around the fireplace you will feel rewarded. If you chose wood as your fuel source then be sure to remember that you will need to use wood that has had ample time to dry out. If you aren't capable of cutting and chopping your wood you can always purchase it from a local seller that will deliver it to your home if you prefer. Take all precautions to ensure your family's safety by keeping all debris cleaned away from your fireplace such as leaves, branches, or other items that could create a potential hazard.