Evening Glow Gas Fire Pit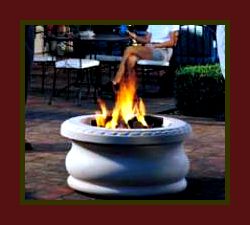 This is an easy, no fuss and no problem kind of fire pit, for those of us who do not want to build their own, but prefer to install and place this architecturally designed fire feature piece in their garden or outdoors.
An easy and simple installation that takes minutes and the possibility of moving this fire pit from one place to the other, ceramic logs and lava rocks makes the experience complete for a perfect outdoor camp fire, which you can enjoy with family and friends during most of the year.

A stunning addition to patios or outdoor decks and a practical heating device that can prolong your outdoor experience without costing you a fortune, this evening glow gas fire pit is made of Ceramic Logs and Lava Rocks and uses a Stainless Steel Burner, this fire pit was constructed with the idea of keeping a patio space warm and not compromise your current patio design or arrangement.

Specifications:
| | |
| --- | --- |
| | Shell: GFRC (glass fiber reinforced concrete) |
| | Valve: manual keyed gas valve |
| | Burner: Stainless Steel |
| | BTU: 90,000 |
| | Gas Type: Natural Gas (NG) or Propane (LP) |
| | Dimensions: 34" Diameter, 18" High |
| | Shipping Weight: approx. 180 lbs. |
| | Propane firepits require a minimum tank size of 100lbs and can not use a 20lb grill tank. |
Limited Warranty:
| | |
| --- | --- |
| | GFRC body: 5 years |
| | Burner Assembly: 2 years |
| | Valve: 1 year |
| | See owners manual for warranty details |

Fire Pit Warnings:
A firepit should NEVER be placed on any combustible surface.
A firepit should NEVER be placed under any combustible construction or materials.
A firepit should NEVER be placed closer than 48 inches from any side to any combustible construction or materials.
See the owners manual for more details on installation.