Charcoal grill cooking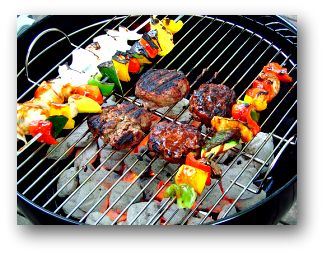 Charcoal grill cooking is fun and exiting with different kind of dishes. Here are 3 easy step recipes for fish, vegetables and sugared hams- enjoy!
Simple charcoal grilled fish recipe
What you'll need-
a)3 pounds of pan dressed whiting, croaker or other sm. Fish.
b)1 table spoon of salt
c)1/4 table spoon of pepper
d)1 cup of flour
e)3 eggs
f)2 cup of dry bread crumbs
g)1/4 cup of melted butter
h)Lemon wedges

"Charcoal fire pit cooking is the real deal, just like old times, and if you do it right all the flavors combine into one seriously delicious meal."
How you'll cook-
Cut the fish (along the back) from tail to the head. Clean the fish and then wash it with flowing water. Let the fish dry for a while. Now it's time to season the fish. You can use salt and pepper here. Beat the eggs and mix them well together. Take some flour in a flat bowl. Roll the fish in flour. When you are done, you can now dip the floured fish in the eggs.
Use the bread crumbs now. Place the fish on both sides with the crumbs. Grease the grill well. It is better to use a hinged wire grill here. Let the grill heat for a while. Now half of the butter has to be drizzled on your fish. You have to cook 4 inches from moderately hot coals. Continue cooking for 4/5 minutes.
Use the remaining half of the melted butter. Turn it well and drizzle it on the fish. Let the fish cook like this for another 4/5 unites. Continue this until your fish flake easily with forks. Make a butter mix- mix up 1/4 cup of melted butter, 1 tablespoon of lemon juice, 1/2 teaspoon of salt, and 1/4 teaspoon pepper. And you are ready to serve.

Recipe for charcoal grilled vegetables
What you'll need-
a)Small zucchinis- 6 pieces
b)Tomatoes (ripe, fresh and firm)- 6 pieces
c)3 or 4 ripe fresh, firm olive oil
d)3 ripe fresh, firm chopped fresh basil (oregano would also do fine)
e)Testing salt and pepper (for give the food spicy taste)
How you'll cook-
Trim the zucchinis and make lengthwise slices. Get the core removed from the top of the tomatoes. Then cut the tomatoes half cross wise. Just brush the processed zucchini and tomatoes with oil, salt, pepper.
Now, put the entire mixture on the hot grill. Cook the whole thing for around 5 minutes. Turn the pieces on the grill. Keep on cooking until the food gets tender. But make sure it doesn't get mushy and you are done with the cooking.

Charcoal grilled sugared ham
What you'll need-
a)1/2 pound of 1 inch thick 2 ham slices- Well cooked and center-cut smoked.
b)1 cup of brown sugar (try collecting packed ones)
c)1/3 cup of horseradish
d)1/4 cup of lemon juice
How you'll cook-
Score the ham 1/4 inch deep (both sides). Try to make an octagonal or diamond pattern. Mix up the ingredients that are left. Keep on heating up to a boiling temperate. Make sure to continue stirring the dish while being cooked.
Put the ham slices on the grill for direct heating. 3 inches could be the ham's optimal distance from medium heated coals. Cool 15 minutes on each side. While cooling, carry on basting the dish frequently with brown sugar mixture.
Charcoal grill cooking can be even more fun when you make a recipe on you own.