Charcoal G
rills
Understanding basics of charcoal grills

Outdoor cooking is never complete without grilling and barbecuing. Grills that are currently available in the market differ from each other on the basis of their design and also based on the fuel used for grilling.
In general, there are two types of fuel sources used for grilling food that include gas and charcoal. There is always an ever running debate on which one is a better fuel source among gas and charcoal. The fact is that both of them have their own set of advantages and disadvantages. It requires great amount of time and patience in order to complete cooking on a charcoal-based grill. However, the fact is that the taste and the aroma of food that has been grilled on charcoal are incomparable and distinct.
"There are two types of fuel used for grilling and cooking food that include gas and charcoal, and there is always a heated debate on which one is a better fuel source among gas and charcoal."
Charcoal grills are available in different styles, designs and can suit anybody's needs. Based on their design, one can categorize them into various types. Some of these are listed below.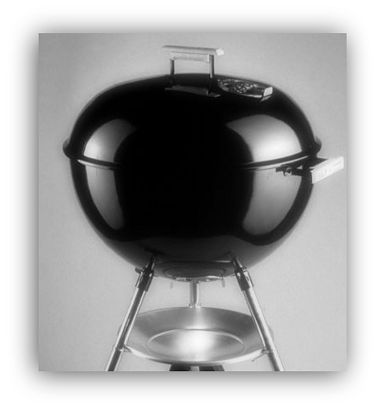 Brazier: In this, the pan holding the coal is made of a sheet metal and is placed usually on legs along with a wire cooking grid. The advantage of this system is that the grid can be moved in any direction so as to have a better control on the amount of heating. Braziers are the least expensive ones amongst all and are also not very much versatile. They can be used only for direct grilling, where foods can be placed right on top of the hot coals. Braziers are good enough for preparing steaks, hamburgers, hot dogs and grilled veggies.
Hibachi: This variety operates almost on a similar design. The only difference is that it is made of either sheet steel or cast iron and contains two independent cooking grids. Heating is controlled by moving the grid up and down in a similar manner as like in brazier. These are very economical but are more useful when compared with braziers.
Kettle: This model was created by George A. Stephen, Sr. in the year 1951. The entire design is based on a tea kettle where the system has a hemispherical ball shape and contains a lid. These systems contain a cooking grid and a charcoal grid. Kettle-style grills are very much common and are ideal for cooking large chunks of foods. Vents present on the top and the bottom are useful in controlling the air flow and temperature. Also, these types of grills are highly durable and can be used for cooking a wide variety of foods such as steaks, seafood, meat and vegetable.
"There are many varieties of charcoal grills available and the selection is almost endless, for the classic design to very impressive models, with many features."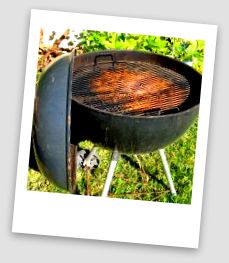 Other varieties include rectangular covered grills and table top models.
There are many varieties of charcoal grills available and the selection is almost endless. Hence, it is important to have an idea about the exact use of the grill before picking up one. Below mentioned are some useful tips that can be followed while cooking on a grill.
Before cooking any food, know about the temperature requirements. Fish requires low to medium heat and chicken cooks best at medium to high temperature. Depending on this, fire must be adjusted on the grill.
Vegetables must always be wrapped in an aluminum foil and grilled on medium heat.
Use charcoal briquettes that provide an even and consistent heat.
Never use gasoline for igniting a grill. Lighter fluid is a safer alternative.
Always place a bucket of water on the side of the grill as a safety precaution.
While throwing away ash, one must always ensure that the fire is extinguished by putting some water. If possible, select a model that contains water in the base below the place where charcoal is kept. In these models, it is easier to control small flash fires that can occur intermittently inside the grill due to excessively hot coals.
The Fire pits home page